The 12th Confucius Institute Conference, sponsored by Confucius Institute Headquarters (Hanban) and People's Government of Shaanxi Province, and presented by Education Department of Shaanxi Provincial Government and Xi'an Municipal Government opened on December 12. With the topic of "Deepening Cooperation, Developing through Innovation, Working Together to Build a Community of Share Future for Mankind", nearly 2500 delegates, including university presidents from over 140 countries, representatives of Confucius Institutes, representatives of overseas embassies and consulates, and representatives of domestic administrative departments for education and Chinese cooperative universities attended the conference. The conference was hosted by Chen Baosheng, Minister of Education. Liu Yandong, vice-premier of the State Council, attended the conference, addressed a keynote speech and presented prizes to Global Confucius Institute Advanced Units and Individuals. Two institutes jointly hosted by JSNU & Miami Dade College and JSNU & Queensland University of Technology won prizes respectively, Eduardo Padrón, president of Miami Dade College winning "Advanced Individual of 2017 Confucius Institute" and Confucius Institute of Queensland University of Technology winning "Advanced Unites of 2017 Confucius Institute".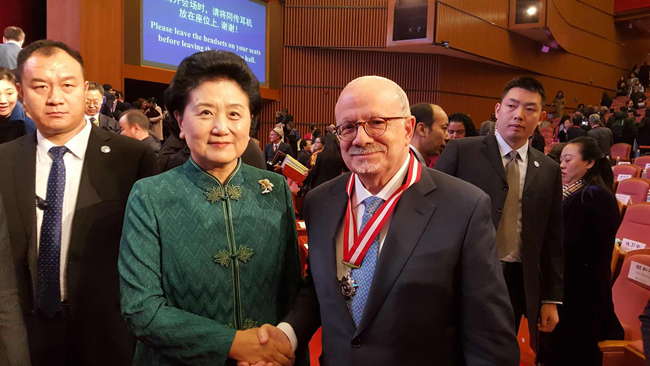 It is reported that those two awards aim at commending institutes and people that achieving outstanding results in promoting Chinese language teaching, spreading and communications of different cultures. This year, only 25 institutes and individuals out of 525 Confucius Institutes have the honor to win the awards. As the only one Confucius Institute in Miami, Confucius Institute of Miami Dade College has devoted itself in Chinese language teaching and Chinese culture promoting in local area, including setting up Chinese credit courses, jointing organizing "The 28th Miami Book Fair International- Focus on China", American Tour of Chinese Traditional Culture and organizing American students' studying tour in China and other activities. By far, almost 900 students have taken Chinese credit course as selective one, effectively meeting the demands of the local students of studying Chinese and increasing their understanding of China. The Confucius Institute of Queensland University of Technology has committed itself in promoting Chinese teaching among primary and middle schools in Queensland and setting up Chinese courses for local people from all walks of life, making Chinese the most popular foreign language in Queensland. Projects and activities conducted by those two institutes have enlarged the influences of Chinese Culture, expediting exchanges between Sino-US and Sino-Australia. They have won the recognition of local administrative departments and all parts of society, becoming important platforms of exhibiting China's image.
As two delegates of over 20 institutes, Tian Xuejun, vice minister of Education met with Dr. Padrón, president of MiamiDadeCollege and Cen Hong, deputy secretary of JSNU Committee of CPC. Vice minister Tian spoke highly of the contributions made by president Padrón for the construction of Confucius Institute and Sino-American communication and encouraged those two institutes to improve teaching qualities and build Confucius Institute of Miami Dade College into a significant international platform. President Padrón expressed his delight of receiving this award and said that Miami Dade College would conduct deeper cooperation with JSNU, forge ahead and prepare meticulously, making Confucius Institute of Dade College enter into the team of Global Demonstrative Confucius Institute.
During the conference, deputy secretary Cen met with president Padrón and foreign side dean of the Confucius Institute of Queensland University of Technology, expressing her congratulations to them. Both sides showed their willingness of making persistent efforts and supporting each other, making Confucius Institute achieve new progress.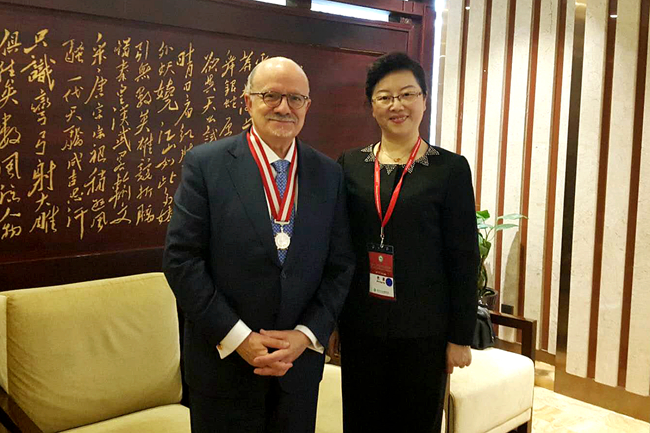 Confucius Conference is an annual global granding meeting, referred as "the Davos Forum" of educational circle. By far, it has been successfully held for 11 times. At present, there are 525 Confucius Institutes and 1113 primary and middle schools Confucius Classes in 146 countries and regions, including 140 Confucius Institutes and 136 Classes along the Belt and Road. The number of various kinds of Confucius Institutes and Classes students has reached 2,320,000 and receiver of cultural activities has reached 12,720,000 by 2017.