The third seminar on "China and LAC: Dialogue between Civilizations", with a subtitle of "70 Years Mutual Understanding&Experience Sharing" kicked off at JSNU on September 21-22. It's sponsored by Jiangsu Normal University and hosted by Foreign Affairs Office of Jiangsu Provincial People's Government, Institute of Latin American Studies Chinese Academy of Social Sciences, and Blossom Press of China International Publishing Group. Co-organizers are University of Buenos Aires and Catholic University of Salta, and University of Chile, University of Veracruz, China National Knowledge Infrastructure and the Foreign Affairs Office of Xuzhou Municipal People's Government. The Center for International People-to-people Exchange Ministry of Education and Foreign Affairs Office of Xuzhou Municipal People's Government also provided strong support. More than 200 representatives of government officials, diplomatic envoys, university scholars, entrepreneurs, journalists and cultural communication institutions from China and Latin America attended the seminar. The Party secretary of CPC JSNU Committee, Professor Hua Guihong and the president of JSNU, Professor Zhou Ruguang attended the opening ceremony and participated in the follow-up activities.
This session focused on 70 years of people-to-people exchanges and the sharing of development experience between China and LAC countries. Since the founding of the People's Republic of China 70 years ago, China and LAC have created mutual trust, learned from each other in exploration, construction, reform and development, and gradually formed a community with a shared future and win-win cooperation.
Wang Rongping, Vice Chair of Jiangsu Provincial Committee of the CPPCC attended the meeting and extended a warm welcome to international friends. In his speech, Wang Rongping said: based on the dialogue of civilizations, Jiangsu province looks forward to strengthening capacity cooperation with LAC countries under the framework of the "Belt and Road Initiative," hopes to raise the level of economic and trade cooperation between two sides, and improve people-to-people exchanges and connections.
Mr. Zhao Bentang, director-general of Latin American and Caribbean Department of the Ministry of Foreign Affairs expressed that the success of this symposium may produce important function in deepening Sino-LAC friendships and improve our cooperative system. He wished that through the 70 anniversary of our friendship, we could witness more cooperative results.
In the speech of Miguel Ángel Riquelme, Governor of Coahuila, he said that, China and its development have set a great example for LAC countries. This seminar was a significant measure for improving humanistic cooperation between China and LAC countries and for the mutual understanding between civil communication among the government of Coahuila and Chinese private institutions.
The Deputy Director-General of Xuzhou Municipal People's Government, Xu donghai first welcomed the government officials and delegations from abroad and the representatives of academic circles and media reporters, then briefed on the situation of Xuzhou and the achieved achievements during the past opening-up progress. He said: Xuzhou is a city with a long history. It has been awarded National Civilized City and the UN Habitat Scroll of Honor. In recent years, Xuzhou has made great progress in economic and social development. It's opening to the world in a more inclusive manner. Friends from all over the world are welcomed to visit Xuzhou or to work and study here. Furthermore, he hoped that people would continue to pay attention to Xuzhou's development.
President Zhou made a speech on behalf of JSNU and welcomed all the leaders, guests and friends from afar. He delivered his warm congratulation to the success of the seminar and gave a brief introduction of JSNU and the achievements from the perspective of global cooperation. He noted that, the success of this seminar was not only a feast of thoughts under the background of research among education and humanity serving the "B & R Initiative", but also an academic feast for establishing platforms, enhancing friendships and boosting communication. This forum would definitely light up the sparkling of thoughts, contribute more theories and produce more impact on the future construction of the "B & R Initiative" and humanistic communications among China and LAC. JSNU would take this seminar as an opportunity, make full use of Institute for China-LAC People-to-people Exchange, strengthen teaching and scientific research cooperation with LAC universities, deepen humanistic exchanges and make new contribution for China and LAC countries' dialogue of civilization.
As one of the spotlight of the seminar, Institute for China-LAC People-to-people Exchange was founded at the meeting. It is a new type of professional think tank which integrates political consultation, research, exchange and spreading and focuses on "Sino-LAC humanistic communication study" with combination of theory and practice. Co-sponsored by Foreign Affairs Office of Jiangsu Provincial People's Government, ILAS CASS, the Center for International People-to-people Exchange, and JSNU, aimed at implementing the mechanism of social participation in "Suggestions for enhancing and improving people-to-people exchange," and enriching the mode of Sino-LAC communication. Among the warm applause from the audience, Professor Hua and leaders from other related units went on the stage and inaugurated the brand.
In addition, the new book "Historia oral: voces y testigos del intercambio cultural entre China y América Latina," which recorded stories of Sino-LAC communication in the past 70 years was published at the opening ceremony. It had been organized, planned and edited for almost 3 years by CECLA and was a think tank achievement of Academy of Contemporary China and World Studies. It was reported that the Spanish version was going to be published at the Think Tank Dialogue between China and LAC at San Diego, Chile in November 2019.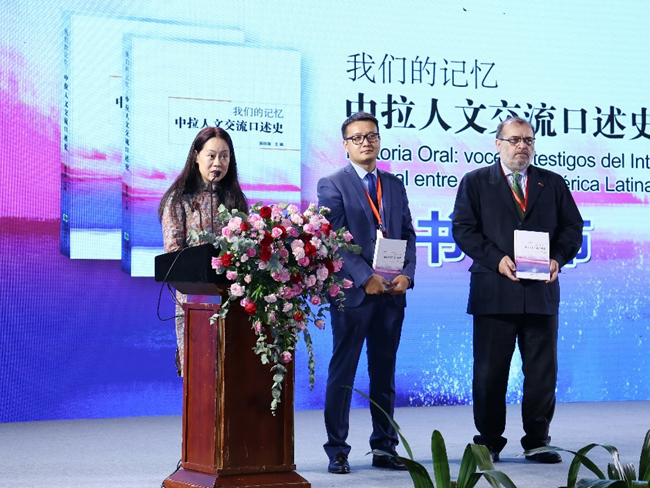 Mr. Luis Diego Monsalve Hoyos, ambassador of Columbia, made a keynote speech, illustrating different contents from the perspectives of bilateral relationships, cultural publication & broadcasting and the mutual study between early civilization between China and LAC countries.
Scholars from over 11 countries, including China, Brazil, Argentina, Chile, Mexico and etc, have conducted warm discussion over industrial park construction & developmental experience sharing, urban development and administration promotion, LAC study in China and Chinese Study in LAC and the cognitive changes of China & LAC images. At the same time, free speeches and Q & A were arranged.
On the morning of September 22, the seminar concluded with a summary of Liu Jiangdong, Deputy Director-General of the Foreign Affairs Office of Jiangsu Provincial People's Government. The theme of the fourth Dialogue between Civilizations (China and LAC) in 2020 is announced. He said "2020 represents a milestone in the history of China's development. China's century-old development has continuously absorbed lessons and experience from all countries in the world, which have also contributed new ideas to countries seeking unique ways suitable for their own development. Shouldering a major mission in the forefront of development, Jiangsu province has always played an important role in the overall map of China. In the future, Jiangsu will continue to construct the 'Belt and Road Initiative' intersection, promote omni-directional, high level opening to the international community, and form the global competitiveness and influence of Jiangsu's development." In the end, Vice Secretary of the CPC JSNU Committee, Professor Cen Hong hosted the closing ceremony.
In the dialogue with representatives, Professor Hua Guihong said that, recently, JSNU has been combined our talents cultivation, scientific research and global cooperation with the "B & R Initiative" closely. Also, we have been trying our best to be a pilot of the "B & R Initiative" and making contribution to humanistic interactions. The organization of this seminar is an important opportunity and platform for JSNU to advance our international communication. JSNU is going to strongly implement internationalization and open operation strategy, positively serve national and local major demands and devote university development into reform and open-up and modernization, making our own wisdom and power for Chinese Dream.
During the symposium, JSNU has signed cooperative contrasts with ILAS CASS, the Center for International People-to-people Exchange Ministry of Education, University of Veracruz, and Catholic University of Salta.