On the morning of Jun 20, Jiangsu Normal University Commencement 2019 was officially held at the Gymnasium on Quanshan Campus. University leaders, Board of Student Affairs Committee, Deans of all schools, Vice Party Secretaries of CPC JSNU colleges & schools Committee, counselors, teacher representatives, parents' representatives and graduates of Class of 2019 attended the ceremony. Professor Liu Guangdeng, Vice Party Secretary of CPC JSNU Committee and Vice President of JSNU, hosted the ceremony. After a flash mob called "JSNU · Time", the ceremony began. At the very first, everyone stood and sang our national anthem.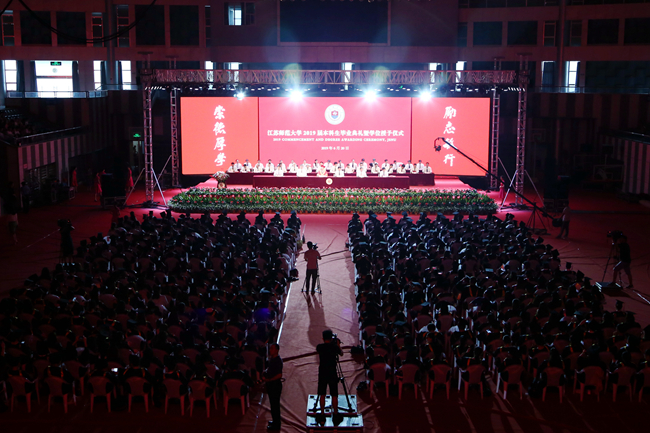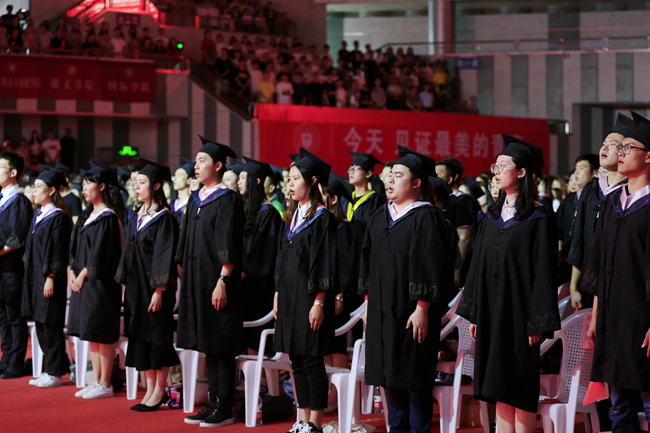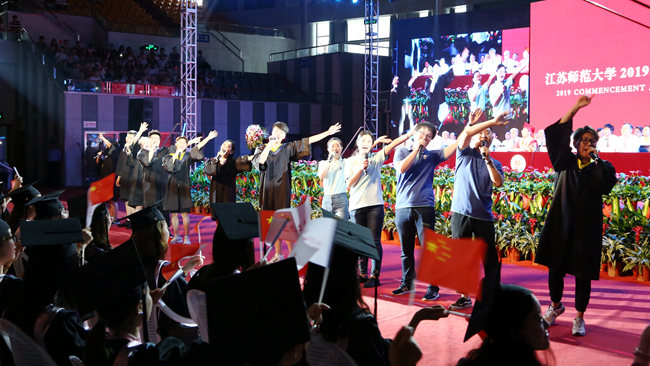 Then, with a big round of applause, Professor Zhou Ruguang, the President of JSNU gave a speech. On behalf of the whole faculty and staff, he delivered sincere congratulations to the Class of 2019 for their accomplishment, gratitude and respect to students' parents and teachers for their raising and instruction. He led graduates to going over their four-year's study affectionately, and hoped that all graduates could transfer all their time in JSNU, no matter happy or sad time, into sweet memories of the Alma Mater. He wished that graduates could be patriots anddream-chasers with responsibilities, bravery and expectations. He added that graduates should adhere to the JSNU spirit of "Integrity, Innovation, Principleand Practice," seeking truth, sticking to principles, being good at innovation,and being pioneering all the time to present the unique look of JSNU in asociety that changes rapidly.
Professor Cai Guochun, Vice President ofJSNU announced the decision to confer academic degrees and the recognition of excellent graduates. Then, President Zhou Ruguang and leaders from different schools turned the tassels and presented academic degrees for the representativesof the graduates.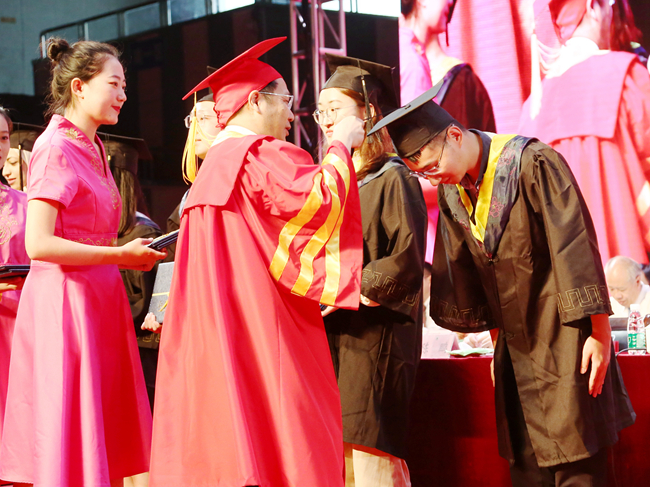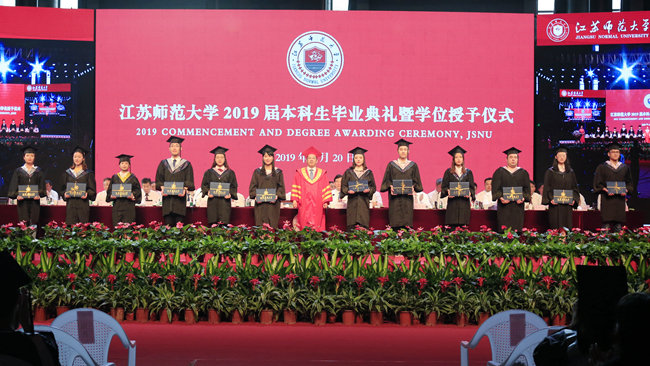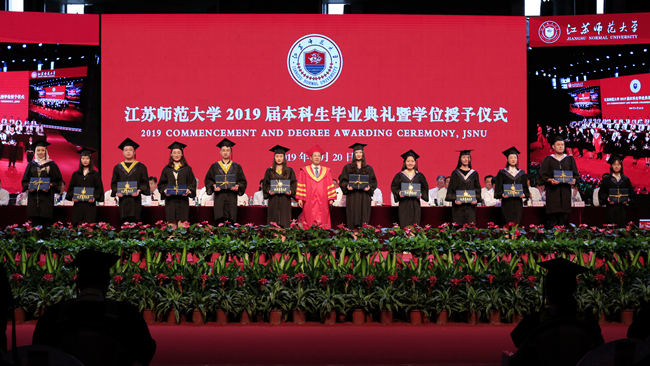 Afterwards, 4,289 graduates reviewed their past four years in a Micro-movie called "JSNU · Chasing Dreams," jointly making their vows to devote their youth to the development and progress of our nation and the society.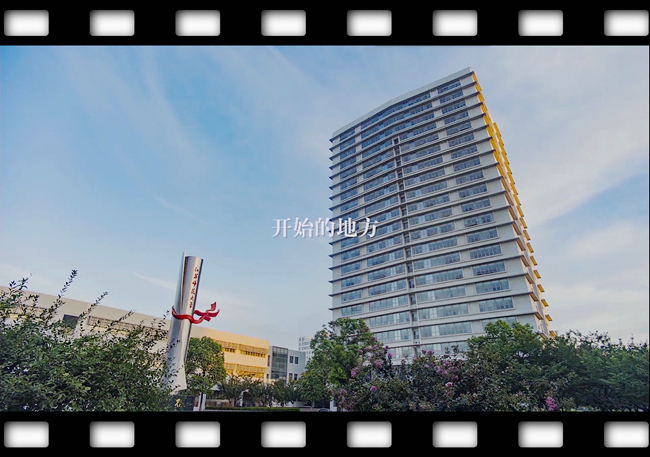 Professor Guo Yonghuan from School of Mechatronic Engineering made a speech on behalf of teachers. She encouraged graduates to be ambitious and stay optimistic, prompt and insistent, and wished them to fly higher down the future road.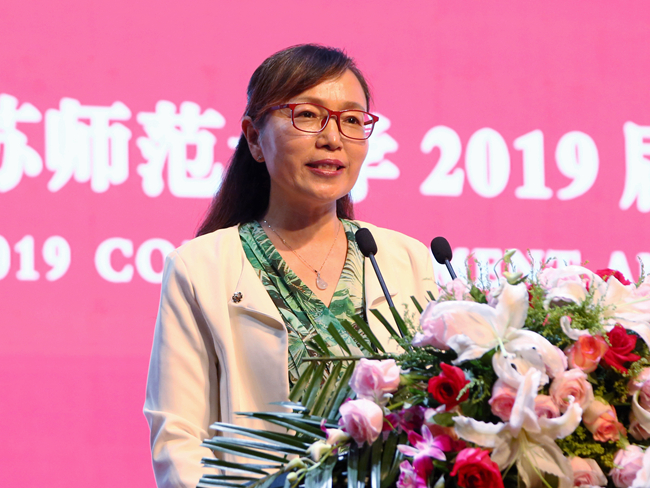 Professor Miao Zhengke, Vice President of JSNU claimed the decision of "University Achievement Award". President Zhou presented the honor to laureates and flowers to awarded graduates' parents.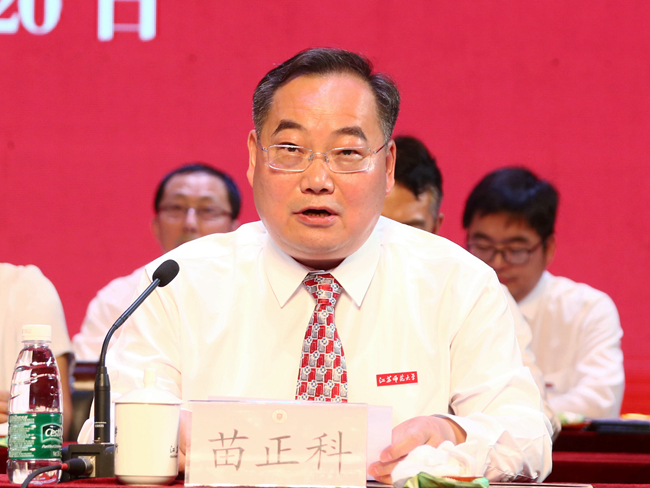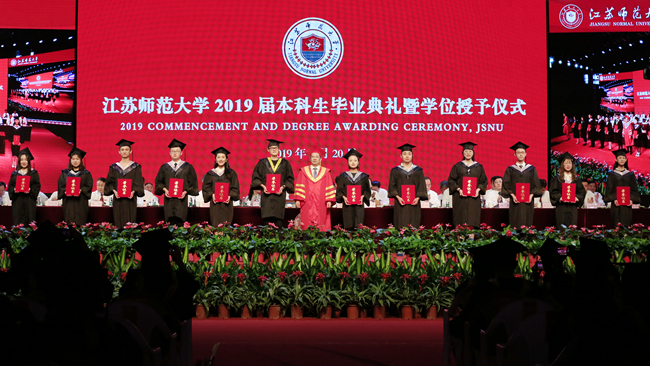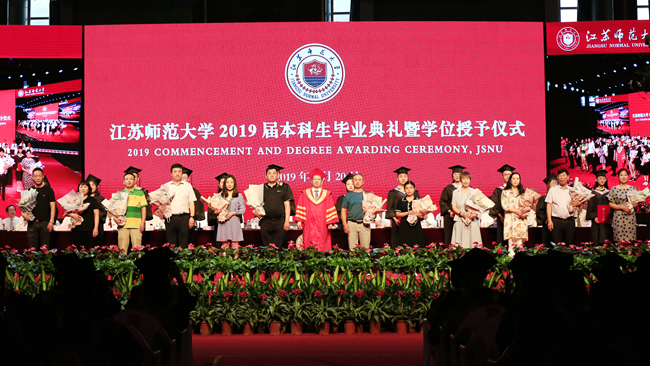 Shan Peichun, father of Shan Jingyao from the Academy of Music gave a speech on behalf of graduates' parents. He sincerely thanked JSNU's faculty and staff for their efforts in cultivating Class of 2019 and hoped that all the graduates could make a good start, conduct themselves, work out their growth plans and stay healthy in bodies and minds, making some contributions in a bigger class of the society.
Later, Secretary of Discipline Inspection Department, Chen Peng and Vice President Zhang Nong gave gifts to representatives that took part in voluntary teaching, encouraging them to bring JSNU spirits intheir future studies and work in order to fulfill the value of their lives.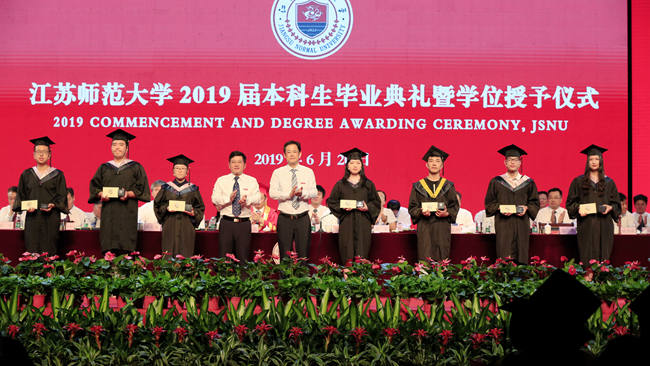 Sun Mozi from School of Philosophy and Public Administration gave a speech on behalf of graduates. He expressed his gratitudefor the Alma Mater, teachers, classmates and parents and delivered his oath tonot forget the original pursuit, the mission of rejuvenation and create asplendid life in a new era.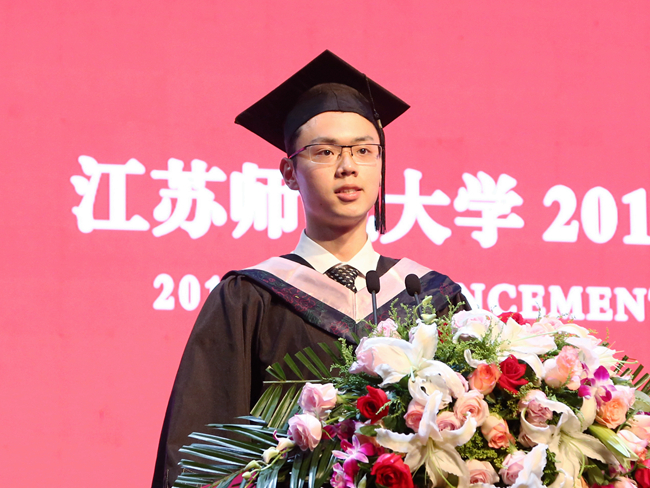 At last, the ceremony closed its curtain inthe chorus of "Me and My Motherland," and the graduates of Class of 2019 were goingto embark on their new life with JSNU expectations.