On the morning of Jun 19, Class of 2019 Postgraduate Commencement Ceremony of Jiangsu Normal University was held at the Gymnasium, Quanshan Campus. University leaders, Board of Degree Evaluation, representatives of the advisers, parents and all the Class of 2019 postgraduate students attended the ceremony.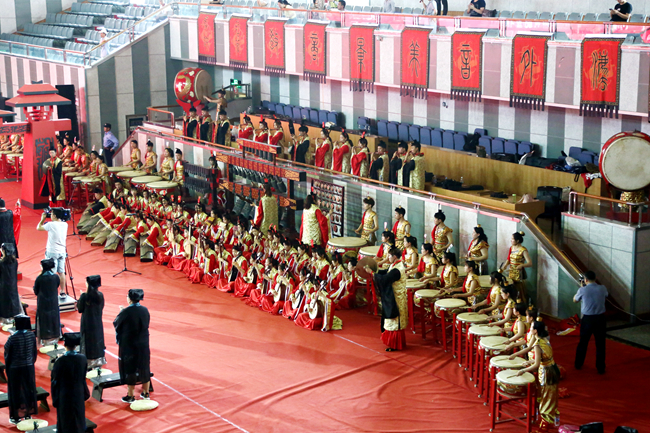 University leaders, Board of Degree Evaluation and representatives of the advisers entered the gymnasiumin Han Costume at 9:30 am with the sound of drums and bells while all the postgraduates standing and waiting in Han Costume. The whole scene was serious and magnificent. After the national anthem, the ceremony officially begins. Professor Liu Guangdeng, Vice Party Secretary of CPC JSNU Committee and Vice President announced the Recognition List and all the university leaders presented awards to excellent postgraduates.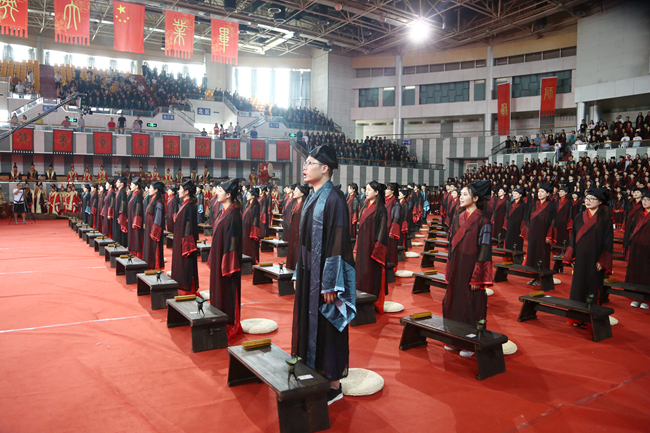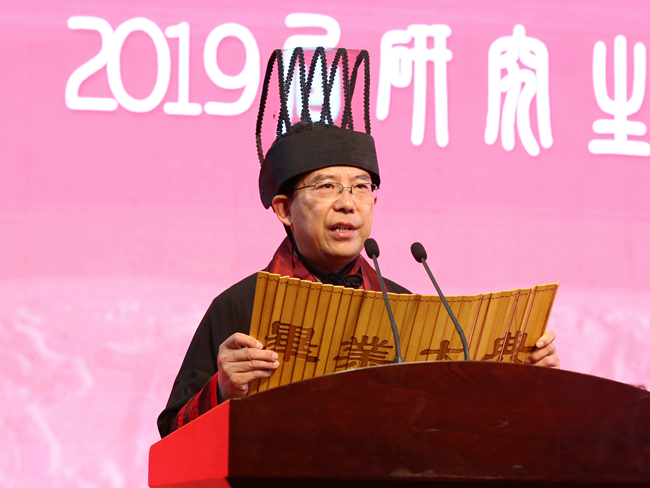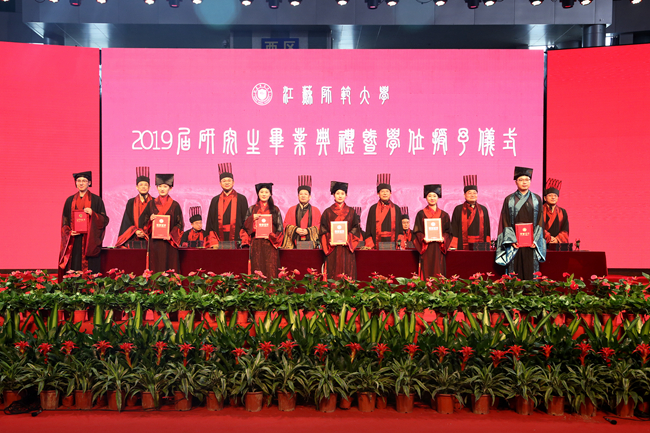 Professor Zhou Ruguang, President of JSNU addressed a speech at the ceremony, "In the past three years, you have paid attention to accumulate your moral qualities and your learning. Now, you all have achieved both benevolence and wisdom, and your academic success," "I would like to deliver my sincerest congratulations to all of your and extend gratitude to your advisors for their hardworking." "Time flew, it has been three years since you started your way of achieving higher education," "Our contact wouldn't be cut off by our distance." "Now, we are going to bid farewell to each other, through this ceremony, I would like to give your some suggestions,""First, I hope that you would not stop learning," "Second, I hope that you could be fearless," "Third, I hope that you could always care about the people.""At last, I hope that all of you would have a bright future and live up to the expectations of JSNU!"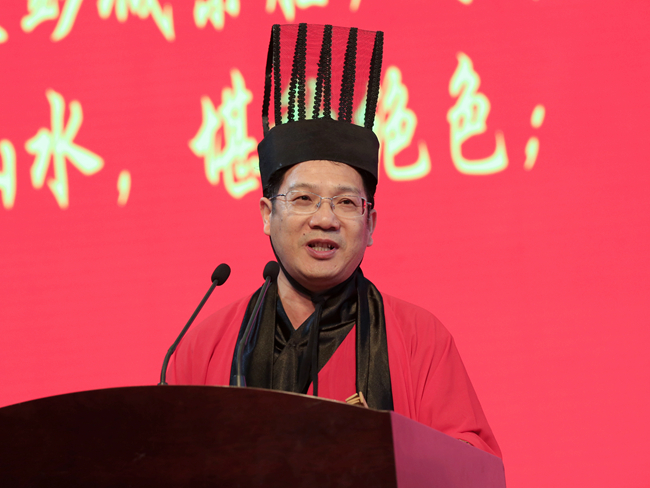 Professor Yin Shaoyun from School of Marxism Studies gave a speech on behalf of all the teachers. She looked back onthe graduates' academic journey and added that "There is still so much tolearn, you should never stop learning," "Although work is hard, you should keep insisting," "You would never know what will happen next, but never forget tostay true to yourself."
Zhou Jin from School of Wisdom Education made a speech on behalf of all the postgraduates. He looked back on the past three years of study and expressed his gratitude to his parents, advisors and classmates. Then, he made his vow to "do something great in order to repay the country and the society."
The whole postgraduates took three bows totheir parents for raising, advisors for instructing and Alma Mater for the education with the instruction of the host. After the rite, they made graduation vows.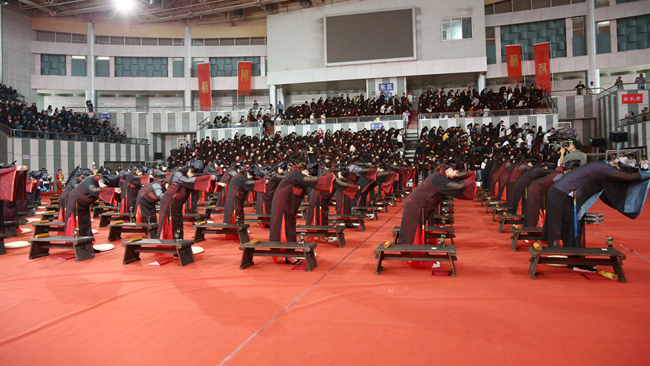 Professor Cai Guochun, Vice Chair of Board of Degree Evaluation and Vice President of JSNU announced the decision toconfer academic degrees to the Class of 2019 postgraduates. University leaders andthe whole board presented certificates to every postgraduate and righted their mortarboards. At last, the whole postgraduates chanted the "Wind Song" together, and went through the Academic Gate, implying their bright future.